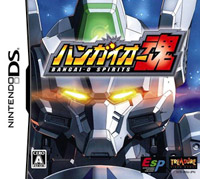 There are few games developers in the world that engender such a fan driven fervour as Treasure. Their games are revered in an almost monolithic sense, beacons of taut gaming functionality they distill the mechanics of a game into something palpably cogent. However, there are a few instances amongst their creative portfolio that have wider cultural leanings.
I am, of course, referring to Bakuretsu Muteki Bangai-O. A series of games featuring the titular mecha, Bangai-O, as it sprays a colourful 2D world with a vast array of homing missiles and lasers. The initial functional impetus for the game was outed as being that of the Sharp X1 title Hover Attack but in a more recent interview, this was merely a partial catalyst as it became clearer that the main influences took on a far greater role.
Specifically, three anime series were cited in the interview; Macross, Layzner and Ideon. For those that have been reading the column regularly, I've already covered the effect of each of these series (here and here). Now it's time to see how these influences actually manifest themselves in a gaming series such as Bangai-O.