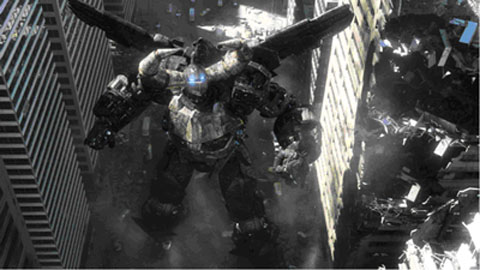 This has been going the rounds as of late, as it seems that a live action Gaiking is in production. The teaser trailer shows that, much like Michael Bay's recent Transformers films, this Gaiking remake is massively over detailing its designs. The reasoning behind this is obviously because some muppet thinks that this makes the mecha look more realistic; the problem is that they picked Gaiking.
Gaiking is a super robot with MASSIVE horns on its head and a giant mouth in its chest. I mean, honestly, it's hardly a realistic place to start. Yet going to all that realistic detail in the cockpit and all the visual kibble adorning the mecha's body is utterly missing the point. At least with the recent animated sequel a few years back they managed to at least get the tone right. This just looks very silly, simply because it's taking itself desperately seriously. Super robots are meant to be preposterous fun, making them realistic just makes it all very dull.
Gaiking was also one of the mecha mecha in the Shogun Warriors toys/comics line. These were basically a means to sell totally disparate Japanese mecha toys from separate series all under one line back in the late 70s and early 80s (a bit like a super robot version of Robotech). The only heartwarming thought about all this is that Go Nagai might get to finally see some Gaiking royalties if this is actually made.
The original Gaiking and its recent sequel have also been featured in numerous Super Robot Wars games over the years. Our personal favourites are Super Robot Wars Alpha 3 and Super Robot Wars K. Both games come highly recommended.
Thanks to Plastic Pals for the heads up.
Spoiler
[flash http://www.youtube.com/watch?v=qS6E-Nu3xsg]
[collapse]