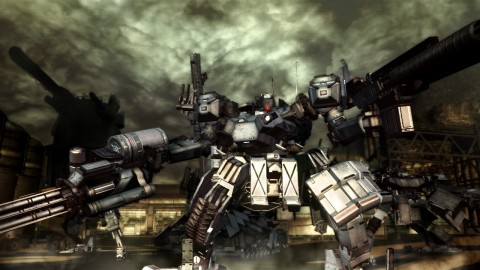 In the latest edition of Famitsu, Armored Core V's new Mercenary System has been partially outlined. In that teams lacking in members can pay other players to help build up their ranks. No word on how the pricing works as yet, but the whole soldier of fortune vibe does chime in with series' history very nicely (as that's effectively what Ravens were anyway). Team members can also moonlight as mercenaries too apparently.
Separately, it's been also revealed that the story mode will be much more substantial than previous games. As many of the core game missions will be around 20 to 60 minutes in length, as well as featuring multiple dramatic cutscenes. These will be playable via online co-op too. In addition there will also be shorter "order" missions available, that sound more akin to a beefed up arena but with a mission based context. The latter total up to around 70 missions in all.
Finally, there's also a new Dengeki Online interview with the game's and series' producer Toshifumi Nabeshima. We'll try and condense the salient points over the next few days.
Update: 4Gamer has a selection of new screenshots as well. Showing more of what appears to be the new HUD as well as various laser blade concept art (some of which look decidedly chainsaw-esque).