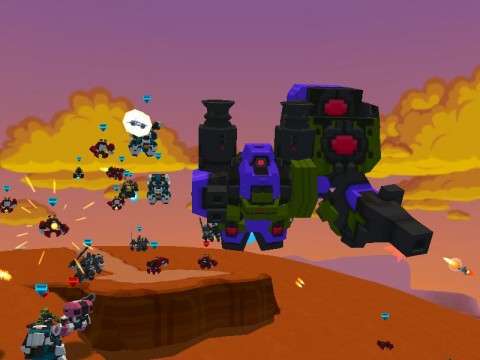 Third-person (third-robot?) action MMO CosmicBreak has announced that its final beta test will begin on December 16th and this will transition directly into official service, with no data wipe between. The makers of CosmicBreak have also announced a browser-based strategy game based on the CosmicBreak universe, CosmicCommander, which while still in a rough alpha condition is giving access to those who register for the CosmicBreak beta.
CosmicBreak still appears to be free to play, with the profit coming from the common "cash shop" method, so with that and the low system requirements hopefully this game sees some play. The game has been in various betas for a while now and it's good to see the game finally get an official release, rather than falling into development hell. Screenshots and videos of CosmicBreak are a bit deceptive, as while the game mechanics look very much "MMO" in nature where tweaked stats triumph over good gameplay and the player merely targets an enemy to attack, the controls are very similar to most mecha games, albeit a tad simplified, and rather than equipment being the deciding factor, it's the pilot that makes the real difference.
CosmicBreak is also getting a single-player mode, which will be a help to people who want to practice the game without feeling pressure being either in a co-operative or competitive environment, which is something I personally feel massively multiplayer games ignore at their own peril, because it makes it all too easy for the newcomer to feel overwhelmed by the professionals.
The graphics are a bit more cutesy than I'd like but there is a good mix between the standard mechanical robots and the mecha musume girls running around the place, and there's nothing stopping you from picking only the mechs and declaring a war on robot girls with skirts much too short. The cutesy graphics also have an upside in that the system requirements are fairly low; I haven't seen a laptop that can't run CosmicBreak and if I could deal with a jittery 15 frames per second I could even play on my piddly netbook.
The game has a few different modes, the most notable one that works as a proto-roguelike, where a single person or team venture into a series of instanced dungeons looking for loot and an exit to the next level of the instance, with the caveat that they need to reach the end of the dungeon to keep most of the loot they've required. You're always tempted to grab just a few more items before heading on, and with a group you constantly have to make triage decisions about whether to risk a friend dying for just a bit more lucre. I'd give CosmicBreak a try for that game mode alone.
CyberStep has also announced a new game currently in the alpha stage of development called CosmicCommander, a browser-based strategy game featuring the same robots and universe as CosmicBreak. The trailer they've sent out seems to imply a mix of Ogre Battle and Super Robot Wars Z, and registering for CosmicBreak seems to get you access to a limited time alpha test of CosmicCommander, with the promise of goodies earned in CosmicCommander transferring back to CosmicBreak in a powerful gattai of marketing synergy. Hopefully we will have some first hand impressions to give you of CosmicCommander, as my college Grade Point Average shuffles off to a corner and shoots itself. If any of you are interested, use the comments section below to talk about doing a Mecha Damashii group when CosmicBreak opens back up, as we take the war to the Cleavage-Showing False Mecha. Steel is strong, flesh is weak! Thou shalt not suffer cute robot girls to live!